This is getting published a little bit late (month and a half into 2014 already) but I still wanted to get this posted.  Once again I'm setting some goals for myself for the year and posting them here publicly.  You can read my past years goals (2010, 2011, 2012, 2013) and retrospectives (2010, 2011, 2012, 2013) as well.  So with that let's dive in.
Professional
Blogging – I'm coming up on 5 years of blogging in a few months.  Hard to believe it has been that long but as long as I have things to share I'll continue blogging.  It is great when I meet people in person that have been helped by tips, scripts, or other content I have blogged about.  This year I know will be busy with a number of work projects but I plan to post at least one post of substance each month.
Publish a productivity tool – When I started blogging back in 2009 the second blog post I ever posted was about how to enumerate SharePoint permissions from SharePoint 2007 with PowerShell.  Last year in 2013 I posted an update for enumerating SharePoint 2010 or 2013 permissions with PowerShell.  I would like to take the updated script and turn it into a tool that works for SharePoint Online as well since I see this as a gap area in tools / reports currently available for SharePoint Online.
Personal
Continue taking annual vacations – This may seem like an odd goal, but taking some time off and disconnecting from work for a few days away from home is good at least once or twice a year.  I also try to disconnect from technology while I'm away so minimal or no email, TV, video games, computers, etc.  The next two goals help with sticking to that.
Running – In 2013 my wife (then fiancé) and I ran our first 5K.  You can read the backstory on why that was such a big deal for me.  This year I plan to run a quarter marathon (6.55 miles) and at least one other race (length undetermined).  I'm already signed up to run a quarter marathon in May and I"d like to do one other race, perhaps something like Warrior Dash.
Read books – As I mentioned in my 2013 retrospective I've really gotten into reading (physical, not just digital) books lately.  I plan to read at least 3-4 books, many which I got as Christmas presents last year (see below).  I'm really loving science fiction books (especially Isaac Asimov) lately and looking forward to finishing up the Foundation series.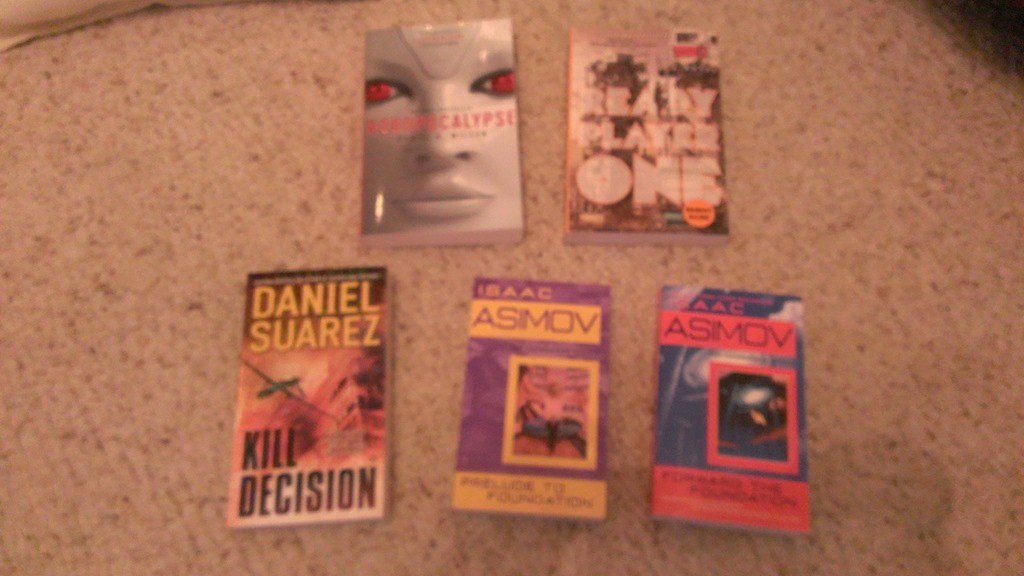 Buy a house – My wife and I are looking to move into something a little larger so we have room to expand our family in the coming years.  We're also preparing our condo for selling it by completing some home projects.  Will be fun to break out some power tools.
Conclusion
   As I said with last year's goals I like publicly posting my goals to hold myself more accountable but also to help inspire others to also create / post their own goals.  If you decide to post your own goals feel free to send me a link as I would love to read.  Here's to a good 2014 year!
      -Frog Out