Disclaimer:, The views and opinions expressed in this post are solely my own and I'm not getting paid or compensated for anything.  I am also an employee of Microsoft but try not to drink the Kool-Aid too much.
[Update 2012-01-02: It appears posting Windows Phone app recommendations is making the rounds on the web today.  My friends Jeff Blankenburg and Sarah Dutkiewicz have also posted recommendations.  Also was referred to a posting on tested.com.  I've already downloaded a few apps based on these recommendations.  Enjoy the additional info.]
Over a year and a half ago I wrote a post about my Motorola Droid App Recommendations.  I was a very big fan of Android at the time.  I say "at the time" because after owning that phone for a year I soon experienced the Android upgrade / fragmentation issues.  What was once a snappy and very usable phone became a slow and unusable.  Even simple tasks like checking email and replying were bogged down as my phone wasn't capable of running the latest Android OS version.
I happily switched from my Motorola Droid to my HTC HD7 early in 2011 (see more below) and haven't looked back since.  Now that I have been using Windows Phone 7 for almost a year I thought I would post my app recommendations (I also got a nudge in the arm from a friend).  I also included links to the apps on the marketplace that you can view, buy, and install to your phone directly through a web browser.  I like that feature and have used it a few times already.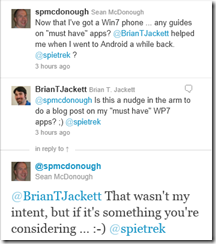 My Phone
I currently use the Verizon HTC Trophy with an extended battery.  Some people question whether an extended battery is really necessary, but with the amount of travel that I do I love the fact that I can get 2+ days out of my phone with a decent amount of usage.  There's also a funny (wasn't funny at the time) story of getting lost in a major city on its metro bus line and my extended battery being the only thing that allowed me to call / use GPS to get back to where I needed to go.
I also have a deactivated T-Mobile HTC HD7 from when I worked at Sogeti.  I haven't used the phone since it was deactivated about 6 months ago, but in theory I could use it for development or a WiFi only device.  Speaking of which I'm going to update it to Mango while I write this post.
Note: The below list does not include any internal Microsoft FTE applications that I also use on a regular basis.  It didn't make sense to post them here as most won't have access to them.
Productivity
Social and Entertainment
Games
Out of the Box
These aren't apps per say, but features or "included in the OS apps" that I use literally every day.  Thought I would at least mention them.
Conclusion
This is just my quick list of apps I use on a frequent basis.  I may update it in the future after a few months or the next major OS release.  If you have any recommendations for apps that you use please feel free to share.
-Frog Out
Links
Windows Phone logo
Windows-Phone-Mango-Logo-Official.jpg
Jeff Blankenburg – What's On Your Phone?
http://www.jeffblankenburg.com/2012/01/02/whats-on-your-phone/
Sarah Dutkiewicz – There's an App for That!
http://codinggeekette.com/2012/01/02/theres-an-app-for-that
Tested.com Windows Phone 7 App Recommendations
http://www.tested.com/forums/phones/4/falcon-fish_face_mcgee-present-our-favorite-wp7-apps-of-2011/12625/#11