Are you a presenter having to deal with your desktop getting jumbled while switching resolutions for a projector?  Are you an end user who has too many unorganized desktop icons?  I feel like Ron Popeil with lead ins like these, but really I just wanted to pass along a great FREE product I've been using the past few months to help me organize my desktop for multiple needs.
Stardock released their desktop management tool called Fences which a coworker referred me to a few months ago.  Essentially you can create groupings (fences) on your desktop and place your icons inside these groupings.  If you resize your desktop or adjust the individual fences, the tool will automatically adjust accordingly.
     Another nice feature is the ability to hide portions of your desktop to remove the clutter.  I really like this feature so that only the fences and icons that I'm currently using the most are displayed.  Other icons like a DVD burning program or rarely used shortcuts and applications can be hidden.  Just configure the fences or icons that will always display, then double click anywhere on the desktop to hide the rest.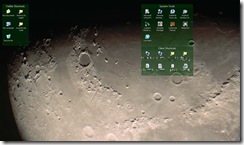 One last feature I like is taking snapshots of your desktop layout.  This allows you to create multiple configurations (home, work, just a backup, etc.) that can be restored at any time.  So check out this great tool and let me know how you like it.  I've seen a few minor updates over the past months I've used it.  At the time of this writing it's just made it to a release candidate recently.  Hopefully it'll remain a free product once it becomes a full product.  Enjoy.
And finally a video a Ron Popeil for those of you who know you know him but can't quite put a face to the name.
-Frog Out