This was the first year of the Microsoft Ignite conference which merged a number of previous conferences including TechEd, SharePoint Conference, Project Conference, and more.  With over 23,000 attendees, a new venue, and numerous Microsoft senior leadership and product group in attendance (including CEO Satya Nadella himself) this was definitely a huge event.  Rather than re-capping the event itself I wanted to take a minute to mention a few items that I heard / saw at the conference.  I am still downloading and viewing a number of sessions that I couldn't attend (same time as another session or room was at capacity) but these are highlights that I wanted to share with others.
Recap
No "internal" FIM in SharePoint 2016 – SharePoint 2016 will not ship with a version of the Forefront Identity Manager product included.  This is a fairly big deal for any customers that are using the "SharePoint Synchronization" option (allows for import and export of content to / from SharePoint) for the User Profile Sync in 2010 or 2013.  Your options in 2016 will be the Active Directory Import (same as 2007 and re-introduced in 2013) or "external" FIM which is installed and managed outside of SharePoint Server.  See the following resources for more details and how to install FIM 2010 R2 + SP1 with SharePoint 2013 so that you can start planning today if you do need the full features of syncing data into and out of SharePoint.
What's New for IT Professionals in SharePoint Server 2016 (session recording with announcement)
Configuring SharePoint 2013 for the Forefront Identity Manager 2010 R2 Service Pack 1 Portal (install overview)
Project Siena – Project Siena looks like a viable alternative (not replacement) for many (smaller) custom development scenarios.  Essentially it is an app that lets you build other apps.  I do not see this replacing InfoPath, Lightswitch, and half a dozen other technologies that have popped up over the past few years but I do see a promising future for this technology (HTML5 + JS based, similar to many other tech stacks that Microsoft is promoting).  Note that it is still in a beta release last time I checked but the fact that it caters to the Excel power user with similar syntax merged with an easy drag and drop interface feels like this could gain traction better than some other tools.  If you aren't familiar with Project Siena you really need to see it to understand it.
Microsoft Project Siena: Build Apps and Create New Mobile Solutions (session recording with demos)
Microsoft Project Siena (Beta) (product site)
New SharePoint hybrid search option – Hybrid search is receiving a huge update / upgrade later this year.  In it's current (May 2015) form SharePoint hybrid search involves separate search service applications / indices for on-prem farms and Office 365 / SharePoint Online.  If you query one source you can federate the query to the other and get results in a separate result block.  The problem though is that configuration can be fairly complex, search results aren't integrated (in-line with each other), and you likely have a large number of servers on-prem for the search service.  Later this year (target timeframe, subject to change) Microsoft will release an update which will allow an on-prem "cloud search service application" to crawl and parse content but then push the metadata up to Office 365 for indexing, querying, etc.  The massive benefit of this is that your on-prem content will then be able to be used in other services like Delve, Office 365 data loss prevention (DLP), and others that currently have no expected on-prem release (or won't be supported until future releases of SharePoint). Additionally you will need a much smaller on-prem server footprint to support search (the example given was going from 10+ search servers down to 2).  This is a big win in my opinion and I can't want to test it out when it is released.
Implementing Next Generation SharePoint Hybrid Search with the Cloud Search Service Application (session recording)
Nano Server – Nano Server is a new installation option for Windows Server 10 (Server 2016 or whatever the final name ends up as) akin to Server Core in the past.  There were a number of sessions that talked about how small the footprint of Nano Server will be (400MB, yes MB compared to 8+ GB of server + GUI "full" edition).  The changes that this introduces not only affect performance but also re-architecting tools to work remotely (there is no local logon or UI for Nano Server, everything must be done remotely).  Things like Event Viewer, Task Manager, Local Services, etc. can be accessed remotely in a web UI similar to the "new" Azure Portal UI (super slick, take a look).  This may sound scary to some admins who are used to having RDP or locally logging on to a server but listen to Jeffrey Snover's take on this.  We are IT Professionals and this is a technology that will reduce number of reboots, make servers more secure, reduce infrastructure footprint, and have numerous other benefits.  You owe it to yourself and your company to learn about this and see if it will work for the services you provide.
Nano Server (session recording)
Nano Server: The Future of Windows Server Starts Now (session recording)
Remotely Managing Nano Server (session recording)
PowerShell – Getting to see Jeffrey Snover (inventor or PowerShell) and Don Jones (first follower of PowerShell, see the link in slide deck) geek out about PowerShell was one of the best sessions I got to see at Ignite.  Hard to describe in words hence I recommend go watch the recording.  Jeffrey had some great advice about using PowerShell as a tool to explore and dive into problems or scenarios you are trying to solve.  That sense of adventure can be a motivating force for your personal and professional careers.  It was really inspiring and I love the fact that Jeffrey (and Don's) mindset is spreading to so many others these days.
Windows PowerShell Unplugged with Jeffrey Snover (session recording)
   On a side note I also wanted to mention one of the obvious but not always talked about benefits of going to a conference like this in-person.  During the week I was able to introduce myself to a number of presenters that I had previously not met.  Some were MVPs, fellow Premier Field Engineers (PFEs), product group members, and more.  The connections you make can last for years and provide an invaluable network for sharing information and getting assistance when you are in need.  I even got a PowerShell sticker directly from Jeffrey Snover himself (another personal highlight).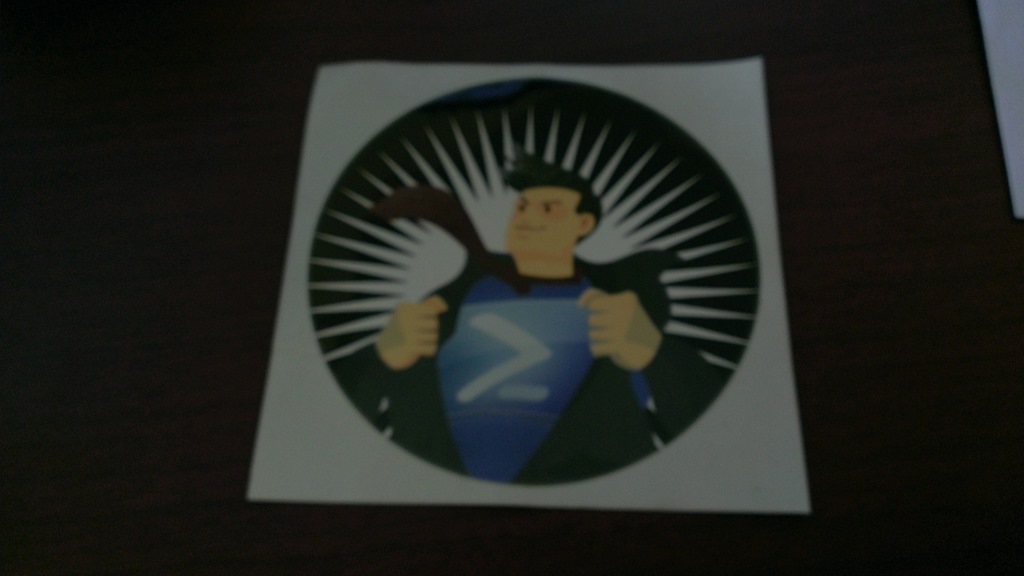 Conclusion
   This is just a short list of some of the sessions that I attended along with highlights or key points that I wanted to share.  If I find anything else significant from the recordings I am going back to watch I'll update this post.  For now though go check out the recordings above or the hundreds of other ones that are up on Channel 9.  I encourage you to attend next year when Ignite 2016 will be in Chicago again May 9-13.
      -Frog Out